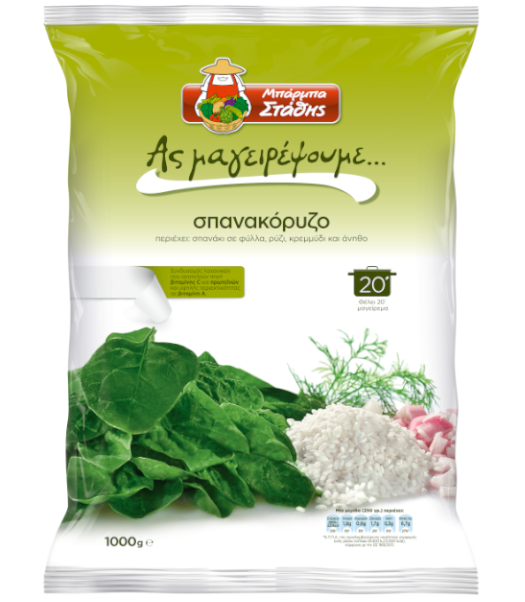 SERVING TIPS
Straight out of the freezer and into a pot or pan, you can cook our "Let's Cook" Spinach with Rice just like any dish with fresh vegetables.
Do not de-freeze prior to cooking!
Tender spinach leaves, rice, onion and dill come together in a simple, light, easy and utterly delicious dish that is backed by the Barba Stathis guarantee of safety and quality. Ideal for vegetarians and anyone following a balanced diet. Enjoy it as the main component in various delicious dishes such as Spinach with Rice with celery and herbs, with cuttlefish, or with chickpeas.
Discover
our delicious recipes
MORE INFORMATION
DIETARY INFORMATION
STORAGE
INGREDIENTS
COOKING INSTRUCTIONS
 
Per 100g
Per 250g
(1 portion)

---

Energy
384kj|92kcal
960kj|230kcal
Fat
0.7g
1.8g
of which saturated
0.24g
0.6g
Carbohydrates
16.0g
40.0g
of which sugars
0.7g
1.7g
Fibers
2.7g
6.7g
Proteins
4.1g
10.2g
Salt
0.14g
0.3g

---

 
Per 100g
% of R.D.I.*
Vitamin A
435.7mg
54%
Vitamin C
19.8μg
25%
*% of recommended daily intake
Refrigerator: 24 hours
Freezer -6˚C: 1 week
Freezer -12˚C: 1 month
Freezer -18˚C: see best before
Caution:
Once defrosted, do not refreeze
Spinach leaves, white rice, onion, dill.
Cook as any vegetable, without thawing.
You will only need (for 4 people): 1 packet of "Let's Cook" Spinach and Rice Barba Stathis 1.000g, 2/3 cup olive oil, 1 squeezed lemon, 1 ½ cups water, salt, pepper
In a pot: Sauté the contents of the packet with half of the olive oil over low heat for 5-7 minutes. Turn the heat up, add the salt, pepper, lemon juice, the rest of the olive oil and 1 ½ cups of water and stir. As soon as it comes to a boil, put the lid on the pot, turn the heat down by half and let it simmer for approximately 15 minutes. Immediately thereafter, take the lid off the pot and let the food simmer for approximately 5 more minutes.