Each step of our business strategy is carefully planned so as to incorporate our vision and values, so that our people, society and the environment are always at the forefront of our actions. Through our Contract Farming program, we have been actively supporting the primary sector and entrepreneurship in Greece for many years. We work with over 1,000 Greek farmers who cultivate over 3,000 hectares in the regions of Macedonia, Thrace, Thessaly and the Peloponnese.
By setting the strictest quality and safety standards and constantly improving on our producers' know-how and training, we can ensure the high quality of Barba Stathis products while, at the same time, we can do our part in strengthening Greek entrepreneurship and the country's economy.
We take care of our employees by providing a safe, fair and inclusive working environment that offers them development opportunities, develops their skills and rewards their commitment and dedication. But this is not all we do.
We actively support our fellow people in need by contributing to the crucial work being done by charity organizations across Greece.
At the same time, we also feel a great sense of responsibility toward nature. Respecting and safeguarding the environment is a matter of the utmost importance to us. We engage in sustainable development practices that reduce our environmental footprint and invest in energy-saving and waste management solutions to make sure that we are doing everything within our power to protect the environment and our ecosystem.
Caring for a better future
Society
"We Do Good!" Social Responsibility Program
Over the years, we have actively supported our community and our fellow people in need through our Social Responsibility Program called, "We Do Good!". We also support the work of dozens of charity organizations across Greece by offering Barba Stathis products on a daily basis in a joint effort to fight food insecurity and the food waste phenomenon.
We believe that no portion of food should ever go to waste and, in order to accomplish this, we have joined forces with the "Boroume" organization and are proud members of the "Food Waste Reduction Alliance".
At the same time, we provide financial support to charity organizations that work primarily with children, and we organize educational activities that highlight the importance of a balanced diet in children's development by focusing on the delicious and nutritious value of vegetables.
Our people
Our most valuable asset and our source of strength!
As a company, Barba Stathis is like a big Greek family, which means that our people are always a source of pride to us: from our producers and agronomists who work on the land and guarantee that our vegetables are fresh, of the highest quality and highly safe to consume, to our people who work in the factory and across the transportation chain, and all our people in Marketing & Sales, they all share an incredible level of devotion, team spirit and care for each other.
We are proud of our people as they are behind each and every one of our accomplishments. In order to take care of our people, we make sure to provide a safe, equitable and merit-based work environment, where everyone has equal access to opportunities, and to create an environment that fosters our people's continuous growth, and provides them with the support and recognition they deserve. We encourage them to take initiative and do our best to promote innovation, while at the same time offering opportunities for continuous self-development through training workshops and seminars for enhanced specialization.
This is how we can ensure that every day we are offering our people a safe environment that nurtures their growth and gives them the opportunity and freedom to take initiative and to share ideas and information in an open and collaborative way.
Environment
We respect nature for all that it offers us!
At Barba Stathis, we feel a deep sense of responsibility toward nature, which is why protecting the environment and its natural resources is of paramount importance to us. We follow a business model based on sustainable development and a circular economy and we implement environmentally friendly procedures in a consistent and responsible manner.
Moreover, we continuously invest in solutions that help us reduce our environmental footprint and use natural resources responsibly Some of the issues that matter greatly to us are: the responsible use of natural resources and of means used for plant nutrition and protection; the safeguarding of biodiversity and the balance of ecosystems; the continuous pursuit of more environmentally friendly packaging materials; the responsible management of our organic and non-organic waste; and the consistent effort to raise awareness about green practices among our employees.
OUR LATEST ACTIONS
FOR THE ENVIRONMENT, SOCIETY & OUR PEOPLE
WE CREATE
SAFE AND TOP QUALITY PRODUCTS
 Empowered by new, state-of-the-art and innovative machinery, we can guarantee the supreme quality and safety of our products, thanks to:
The complete chemical and microbiological analyses we carry out systematically
The inspections we carry out systematically across all stages of production, packaging, storage and shipping
The synergistic approach of Integrated Crop Management and Contract Farming
The quality and safety of our products are also documented in the Management Systems and Standards found below.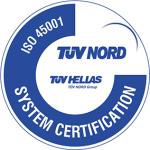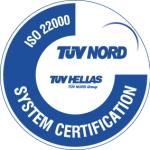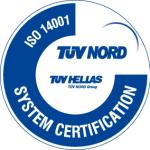 Frozen Vegetables Certifications
ISO 9001/2015
ISO 22000/2018
ISO 14001/2015
International Food Standard (I.F.S.)
British Retail Consortium (B.R.C.)
Roundtable on Sustainable Palm Oil (R.S.P.O)
DIO, Inspection and Certification Organization of Organic Products
Zero Waste to Landfill
Kosher (Jewish Community of Thessaloniki)
SEDEX SMETA
Fresh Salads Certifications
EN ISO 9001/2015
EN ISO 22000/2018
EN ISO 14001/2015
International Food Standard (I.F.S.)
Zero Waste to Landfill - Platinum
SEDEX SMETA