Since the day we started our company more than 50 years ago, we created something groundbreaking for Greece: the very first production line for frozen fruit and vegetables. Since then, we've grown. Discover our journey, step by step.
A JOURNEY OF 50 YEARS
1969
It all started here, in Thessaloniki, back in 1969. The first frozen fruit and vegetable production line was set up here by EVIE MICHAELIDIS S.A.- BARBA STATHIS.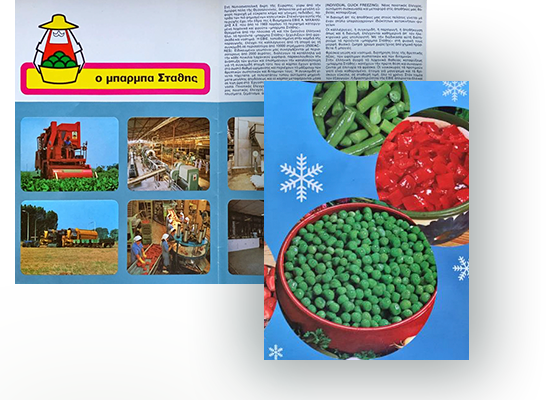 1970s-1980s
Within the first decade of our existence, we were able to grow fast and build modern facilities, for the standards of that time, and invested in expanding both our production lines and our storage facilities.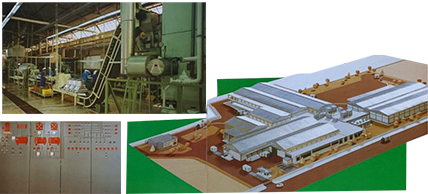 1980s-1990s
The rate at which we grew was quickly matched by the trust we gained from our consumers thanks to our innovative products and extensive variety. An example of new and innovative products we introduced at the time are mixed vegetables and frozen potatoes.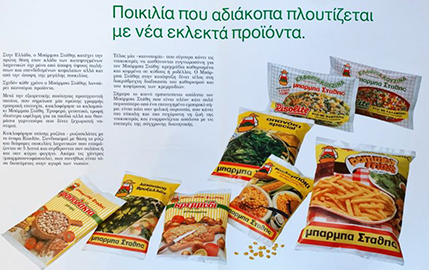 1991
As we were expanding rapidly, we wanted to take one more innovative step: to dynamically enter the frozen dough market. With the emergence of our Chryssi Zymi brand we not only achieved this goal, but also managed to consolidate our position as market leaders in this category!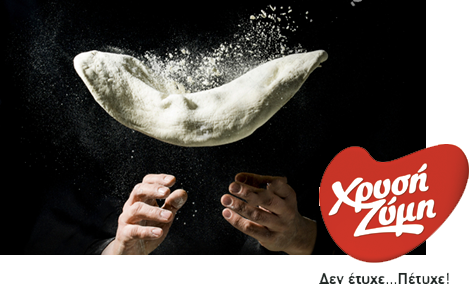 1994
In 1994, Barba Stathis - General Foods S.A. is taken over by the DELTA group of companies, thereby continuing its successful journey.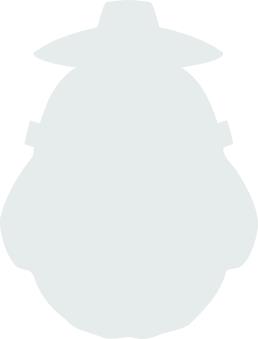 1996
In 1996, with the introduction of our innovative product range "My Recipes" (known today as "Let's Cook") we once again revolutionized people's daily cooking habits. For the first time in history, popular traditional Greek recipes such as Spinach with Rice, Peas in Tomato Sauce, Artichokes a la Polita, to name a few, offered a solution to the challenge of daily cooking faced by millions of Greek households.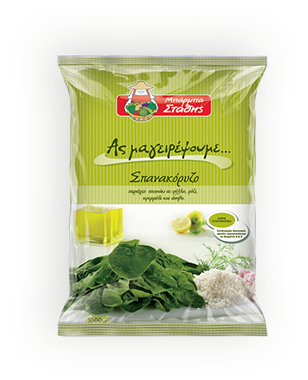 2001
With a prominent position in the vegetable industry, held for over 30 years, our next step came naturally. In 2001, we were the first in Greece to invest in the production of fresh salads. In 2005, we launched a range of freshly washed, pre-chopped, packaged salads by Barba Stathis, drastically changing the way salads would be consumed in the future.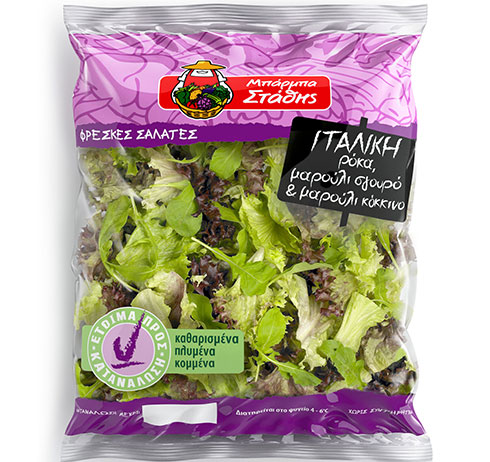 2006
In 2006, we grew even more as a company. Following the merger of four major food companies, Barba Stathis being one of them, VIVARTIA S.A. was founded. At the same time, we launched our "Organic Crops" range, which was quickly embraced by consumers, thereby transforming the market landscape. In the same year, we also launched our pantry product range, with "Grated tomatoes" being the first.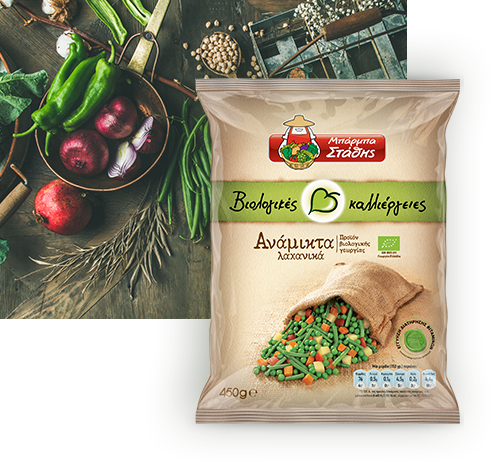 2012
In 2012, with continuous effort and care, we completed and renewed a five-year investment plan aimed at upgrading our production unit in Sindos, Thessaloniki, to improve its productivity.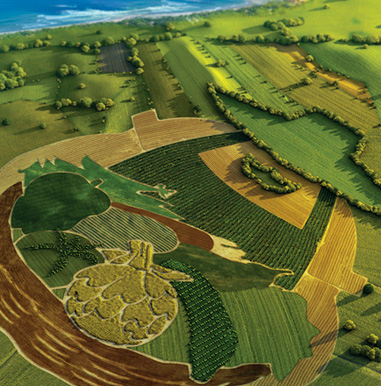 2012-2014
2014 was a very important year for us as we won the Grand Effie 2014, the leading marketing and communication award, for our innovative and controversial "Barba Stathis Freshness" campaign. The campaign launched in 2012 and communicated the freshness and nutritional value of our Barba Stathis vegetables. Its core message, "Locally grown vegetables, as fresh as at the moment of harvest" was based on the fact that frozen vegetables offer the same nutritional value as fresh ones do. The campaign led to the creation of new consumer trends, and overturning out-dated ideas.
2014
In 2014, we also relaunched "Barba Stathis Tomato", made with 100% juicy Greek tomatoes that are carefully selected according to the strict criteria of the Barba Stathis brand. Tomatoes that elevate your favorite recipes!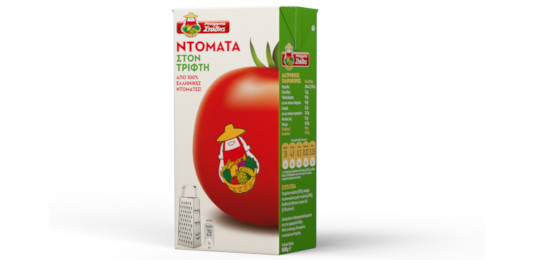 2018
In 2018, we invested in a new production line for frozen rice and were able to re-launch our beloved "Rice with Vegetables" range featuring new packaging, new nutritious combinations and, for the first time ever, made with Greek frozen rice. A year later, we introduced our innovative "Pasta with Vegetables" range featuring different types of pasta from Greek producers that are frozen with a cutting-edge process at our Sindos facilities. Finally, we further diversified our frozen pasta range with the addition of two Wholegrain Pasta combinations.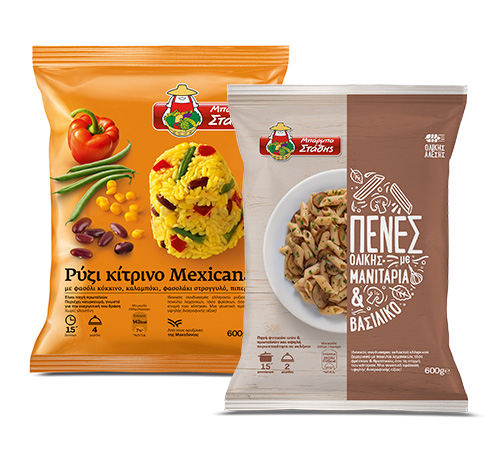 2019
2019 was a milestone year for us, marking 50 years of continued and extremely successful production and operation. It's a very special feeling to know that, throughout all these years, we've cared for and respected nature in appreciation of all that it gives us. We are proud to have been able to preserve the Greek culinary tradition while constantly and consistently producing high quality and safe products that are both nutritious and delicious. It's because of this that, every day, we keep doing what we do best, setting new goals, and staying true to our vision and our principles.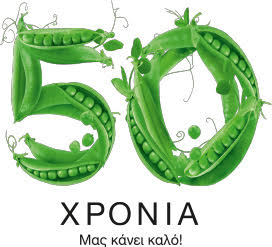 2022
In 2022, we invested in innovation by creating two new product lines of ready-to-eat plant-based meals that are quick and easy to cook, meeting the needs of modern consumers. The new product line "We Choose" consists of five tasty combinations of vegetables with grains and pulses that create original, nutrient-rich meals, that are easy to cook in just 5 minutes in the microwave. Similarly, the new "360o Plant-Based Meals" product line is based on pea protein and provides a new and 100% vegan approach to favorite Greek recipes, such as plant-based balls made from pea protein and pasta with plant-based mince. The new products are prepared in no time in the airfryer. In addition, all packaging for the new products is 100% recyclable, further reinforcing our commitment to an ever-decreasing environmental foot.