This Cookies Policy of BARBA STATHIS Single Member Industrial and Commercial Société Anonyme (the company), provides you with information regarding the use of cookies and related technologies by the company's website www.barbastathis.com ("the website"). It also describes what choices you may have about cookies when you browse the website.

This Cookies Policy forms part of the terms of use of the website and may be subject to revision from time to time. It is recommended that you check this Cookie Policy regularly in order to be kept informed about any revisions. By visiting the website, you agree to accept any changes made to this Cookies Policy.

Cookies are divided into "session cookies" and "persistent cookies" depending on how long they remain stored on your device. "Session cookies" are stored on your device the moment you visit the website and are automatically deleted after you close your browser. "Persistent cookies" are stored on your device the moment you visit the website and remain stored after you close your browser. "Persistent cookies" will be reactivated automatically when you open your browser and browse the internet. 

First-party and third-party cookies – depending on the website or domain that sets the cookie, cookies are classified as "first-party" or "third-party" cookies. First party cookies are cookies set by the website visited by the user and displayed in the URL window, i.e. in this case the website. Third-party cookies are cookies set by a domain other than the one visited by the user. If a user visits a website and a different company sets a cookie through that website, that cookie will be a third party cookie. 

1. Use of cookies and related technologies

Cookies are small data - information files, usually consisting of letters and numbers, which are stored by a website in an internet browser that you use on your computer or other device (mobile or tablet) while browsing. The website retrieves this information on each visit in order to be able to provide related services. Therefore, we use cookies to provide you with the best possible browsing experience and security on our website.

1.1 Types of cookies that we use

The company uses cookies of the following types to ensure the proper and safe use of the website (strictly necessary cookies) and to promote better service to browsers on the website, as well as personalization of information and preferences for each browser (other categories of cookies). Consequently, strictly necessary cookies are technically necessary for the proper and safe use of the website, while the other categories of cookies below are used, with the prior consent of the visitor, to perform functions such as advertising, obtaining statistics and facilitating your interaction with social media through the website. 

Necessary Cookies

Necessary or strictly necessary cookies are essential for the proper functioning of the website. They allow you to browse and use features of websites such as access to secure areas, etc. These cookies do not recognize your individual identity. Without these cookies, we cannot provide effective website functionality.

Basic functions, such as the following, rely on this category of cookies: 

•    Remaining securely connected to the website. 
•    Identifying your personal information which you may submit to the website when you communicate through the website. 
•    Providing you with information at your request.
Performance cookies

These cookies collect information about how visitors use the website; for example, which pages they visit most often and whether they receive error messages from web pages. These cookies collect aggregated, anonymous information that does not identify a visitor. This information is used solely to improve our website's performance in order for us to be able to review and improve the website and the visitor experience. Such cookies collect information regarding:

•    Pages that users visit most often through the website.
•    Products that generate the most user interest. 
•    Ads or offers that users have viewed. 
•    Links that users have clicked on. 
•    Error messages that users may receive while browsing the website, etc. 
This category also includes Google Analytics listed below.

Targeting/advertising cookies 

These cookies are used to provide content that best suits you and your interests and store your online activities, including your visits to the website, the pages you have visited and the links and advertisements you have clicked on. They can be used to send targeted advertising/offers, limit advertising exposure or measure the effectiveness of an advertising campaign. Our interest-based advertising may include our company, service providers and our partners, such as advertisers, data management platforms and demand-based platforms. For example, if you view a page on the website, we may cause an advertisement to be displayed to you, on the website or on other websites for products listed on that page or similar products. Our company, service providers and our partners may also add other data to information collected by these cookies, including information obtained from third parties, and we may share this information with third parties in order to send advertisements to you. They can also be used to measure the effectiveness of online marketing channels and allow external websites and partners to be rewarded.

Third Party Cookies 

When you browse the website, third party organizations and companies may generate their own cookies to control the functioning of their applications and personalize them for you through "share" and "social plugins" (Facebook, Instagram, LinkedIn). The website also provides links to other websites via hyperlinks (Buy It) for you to find our products in third-party e-shops. When you visit such external websites, it is possible that they may also use cookies. Due to the nature of cookies, the company has no control or access to these third-party cookies, and no other organization can access the data stored in them. These third party companies and organizations have their own cookie and privacy policies, which you should refer to for further information.

GOOGLE ANALYTICS 

With your prior consent, the company's website uses Google Analytics "Remarketing and Advertising Features", through which our company collects information. This information helps our company to optimize the website based on the preferences of its visitors. The information collected is sent to and stored on Google's server in the US. For more information about Google's Privacy Policy, please visit the following link https://www.google.com/intl/en/policies/privacy/ and in particular the link https://support.google.com/analytics/answer/6004245.

If you do not want Google Analytics to collect your data, you can download and install the Google Analytics Opt out program on your browser through the following link https://tools.google.com/dlpage/gaoptout/ .
List of cookies used by the barbastathis.com website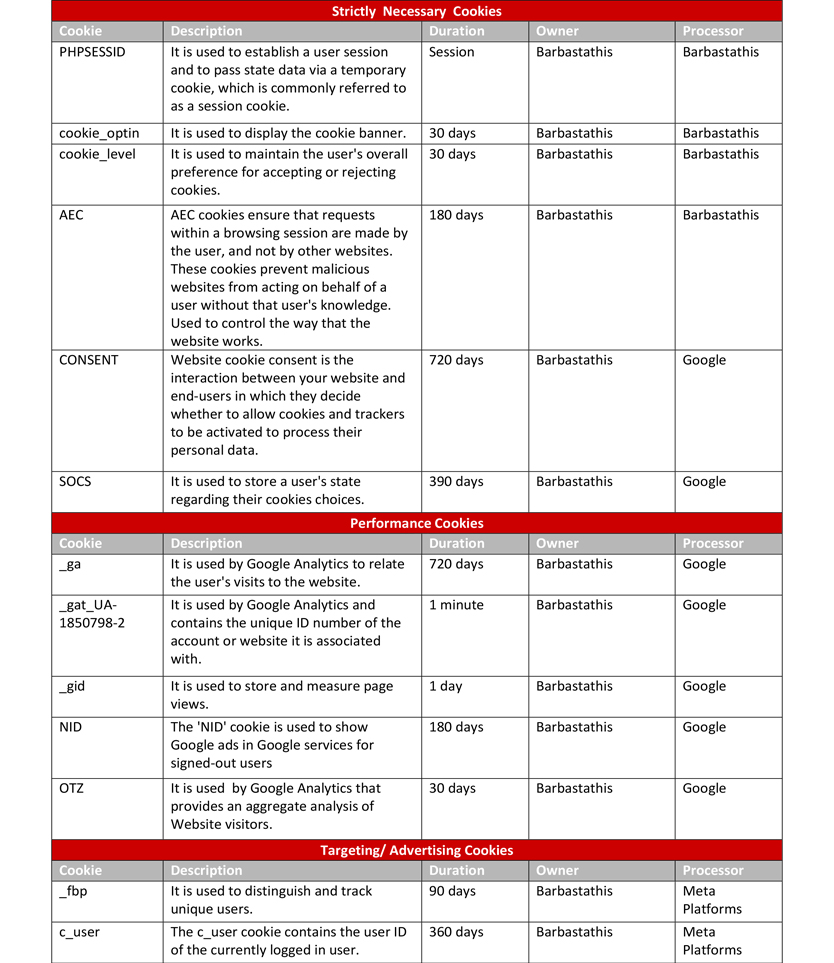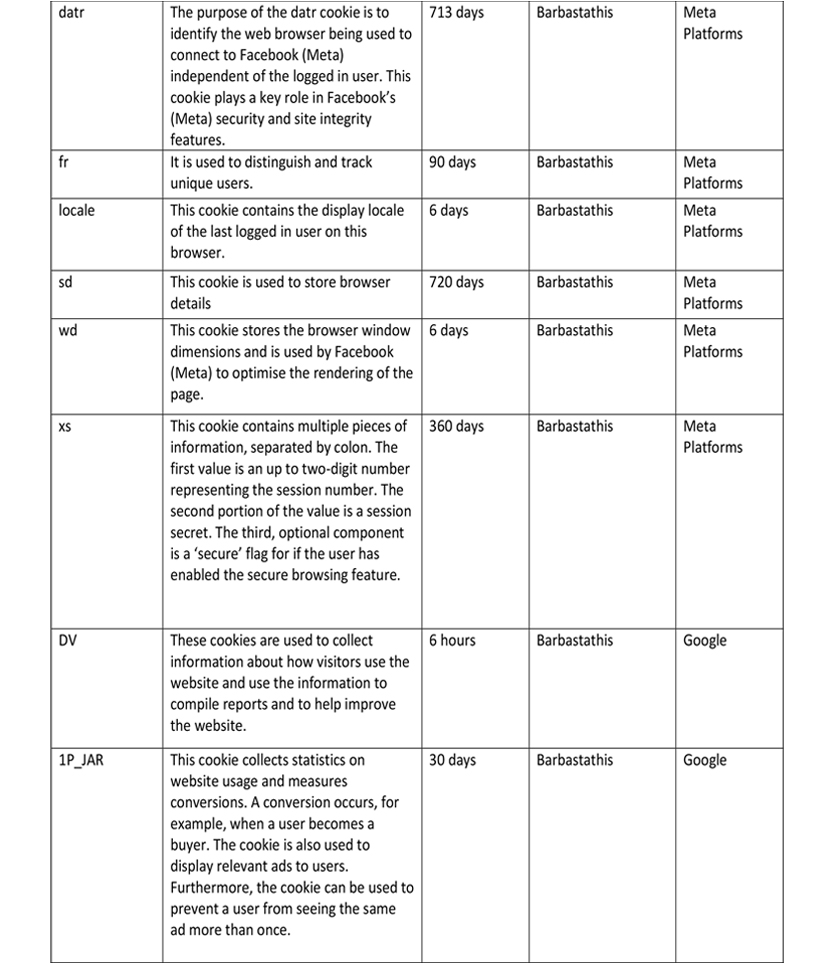 1.2 Updating, checking and accepting cookies

The visitor browsing on the company's website is informed, initially the first time he or she logs on and thereafter, periodically (at regular intervals), through the display of a relevant functional "window" for managing his or her preferences (banner) regarding the use of cookies on the company's website and is invited to choose between: a) accepting only the strictly necessary cookies (the use of which is absolutely necessary for the operation of the individual fields of the website and, therefore, essential for the use to browse the website), b) rejecting all the categories of cookies described above except the necessary cookies, and c) accepting or rejecting some of these cookies, using the corresponding checkboxes at the various levels of the relevant functional window. 

The user is provided with the possibility to change his or her initial or subsequent choices regarding the extent of cookie use at any time and easily through the "functional" menu, which appears by clicking on the relevant "Edit Cookies" icon, located in the bottom right corner of the website, (or the respective applicable icon) or alternatively, through the support page of the browser of your choice, as below:

1.    Microsoft Edge https://support.microsoft.com/el-gr/microsoft-edge/%CE%B4%CE%B9%CE%B1%CE%B3%CF%81%CE%B1%CF%86%CE%AE-cookies-%CE%B1%CF%80%CF%8C-%CF%84%CE%BF%CE%BD-microsoft-edge-63947406-40ac-c3b8-57b9-2a946a29ae09
2.    Internet Explorer https://support.microsoft.com/kb/278835
3.    Firefox https://support.mozilla.org/en-US/kb/clear-cookies-and-site-data-firefox
4.    Chrome https://support.google.com/accounts/answer/61416?hl=en
5.    Opera https://www.opera.com/browser/tutorials/security/privacy/
6.    Safari https://support.apple.com/guide/safari/manage-cookies-and-website-data-sfri11471/mac
7.    Safari for iPad and iPhone https://support.apple.com/en-us/HT201265

3. Third Party Cookie Control

Finally, we draw your attention to the fact that, while you are browsing the website, third party organizations and companies may generate their own cookies (third party cookies) to control the functioning of our applications and personalize their content. Due to the nature of cookies, our company has no control or access to any such third party cookies or any data stored in them, as the respective "third parties" (companies and organizations) have their own policies regarding cookies and privacy. Consequently, our company bears no relevant responsibility for any issue arising from the storage of cookies on your device from any such third party website.

4. How to contact us

You can contact us with any questions about our processing of your personal data or our use of cookies, or to exercise your rights, using the online contact form on our website. You can contact the Company's Data Protection Officer by sending an email to dpo@barbastathis.com

Revision of Document

This document is reviewed and revised periodically, when required by the Data Protection Officer in accordance with the Company's Data Protection Policy. 

Last Revision 29/06/2023

Copyright 2023 BARBA STATHIS Single Member Industrial and Commercial Société Anonyme