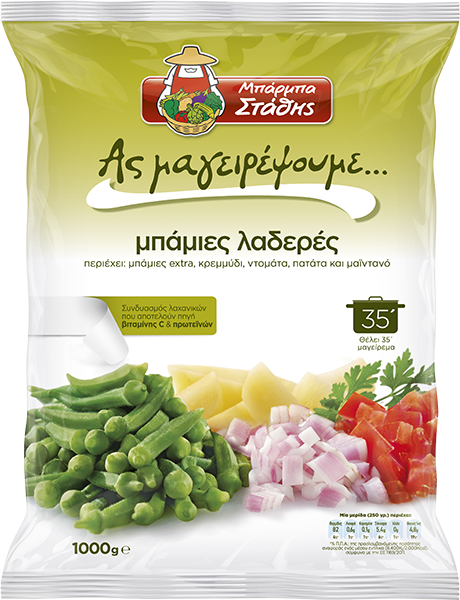 SERVING TIPS
Straight out of the freezer and into a pot or pan, you can cook our "Let's Cook" Okra Casserole just like any dish with fresh vegetables.
Do not de-freeze prior to cooking!
Our Barba Stathis "Let's Cook" Okra Casserole is a popular summer dish, now available to enjoy year-round. A light and nutritious dish, full of distinct flavors and memories! Enjoy it as the main component in delicious dishes such as Okra Casserole with chicken or fish.
Discover
our delicious recipes
MORE INFORMATION
DIETARY INFORMATION
STORAGE
INGREDIENTS
COOKING INSTRUCTIONS
 
Per 100g
Per 250g
(1 portion)

---

Energy
137kj|33kcal
344j|82kcal
Fat
0.2g
0.6g
of which saturated
0g
0.1g
Carbohydrates
7.3g
18.3g
of which sugars
2.1g
5.4g
Fibers
1.9g
4.8g
Proteins
1.5g
3.8g
Salt
0g
0g

---

 
Per 100g
% of R.D.I.*
Vitamin C
13.40μg
17%
*% of recommended daily intake
Refrigerator: 24 hours
Freezer -6˚C: 1 week
Freezer -12˚C: 1 month
Freezer -18˚C: see best before
Caution:
Once defrosted, do not refreeze
Okra, onion, tomato, potato, parsley.
Cook as any vegetable, without thawing.
You will only need (for 4 people): 1 packet of "Let's Cook" Okra Casserole Barba Stathis 1.000g, 1 cup of olive oil 1 cup of Barba Stathis Grated Tomato, 2 cups of water (if using a pot) or 1 cup of water (if using a pressure cooker) salt, pepper
In a pot: Heat half of the olive oil over low heat and sauté the contents of the packet for 5-7 minutes. Turn the heat up, add the salt, pepper, tomato and the rest of the olive oil and stir gently. As soon as it comes to a boil, put the lid on the pot, turn the heat down by half and let it simmer for approximately 35 minutes.
In a pressure cooker Follow the recipe as described above, but use half the quantity of water (1 cup). Put the lid on the pressure cooker and once the valve rises, turn the heat down by half and let it simmer for approximately 10 minutes.