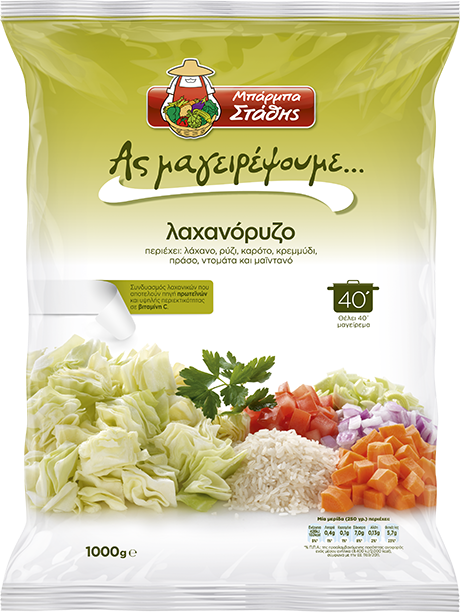 SERVING TIPS
Straight out of the freezer and into a pot, you can cook our Cabbage with Rice.
Do not de-freeze prior to cooking!
Barba Stathis Cabbage with rice a traditional dish that has a special place on our table. It is delicious and very healthy, ideal for a balanced diet. Enjoy it as the main component in various delicious dishes such as Cabbage with Rice in tomato sauce, with turmeric, or with country-style sausage.
Discover
our delicious recipes
MORE INFORMATION
DIETARY INFORMATION
STORAGE
INGREDIENTS
COOKING INSTRUCTIONS
 
Per 100g
Per 250g
(1 portion)

---

Energy
170kj|41kcal
426j|102kcal
Fat
0.2g
0.4g
of which saturated
0.04g
0.10g
Carbohydrates
8.4g
21.1g
of which sugars
2.8g
7.0g
Fibers
2.3g
5.7g
Proteins
1.4g
3.5g
Salt
0.05g
0.13g

---

Vitamin C
29.7μg
37%
*% of recommended daily intake
Refrigerator: 24 hours
Freezer -6˚C: 1 week
Freezer -12˚C: 1 month
Freezer -18˚C: see best before
Caution:
Once defrosted, do not refreeze
Cabbage, white rice, carrot, onion, leek, tomato, parsley.
Cook as any vegetable, whithout thawing
You will only need (for 4 people): 1 packet of "Let's Cook" Cabbage With Rice Barba Stathis 1.000g, 1/2 cup olive oil, 3/4 cup Grated Tomato Barba Stathis, 1 cup water, salt, pepper.
In a pot: Saute the contents of the package with half the amount of olive oil on high heat for 5-7 minutes. Add salt, pepper, tomato to the grater, the remaining olive oil, water and mix gently. As soon as it comes to a boil, put the lid on the pot, turn the heat down by half and let it simmer for approximately 40 minutes
In s pressure cooker: Follow the recipe as described above, but using 1/2 cup water. Put the lid on the pressure cooker and once the valve rises, lower the heat and let it simmer for approximately 10 minutes.