Cooking
1 hour and 30 minutes
Tab Content
900g packet of Barba Stathis Broccoli
1 packet of Cryssi Zymi Shortcrust pastry
150g of ham (piece)
1 tbsp of olive oil
2 spring onions
250g of fresh cream
250g of cream cheese
200g of Graviera cheese
100g of Parmesan
3 medium-sized eggs
1 egg yolk
2 pinches of nutmeg
salt & pepper
1 tbsp of fresh spearmint
1 tbsp of fresh thyme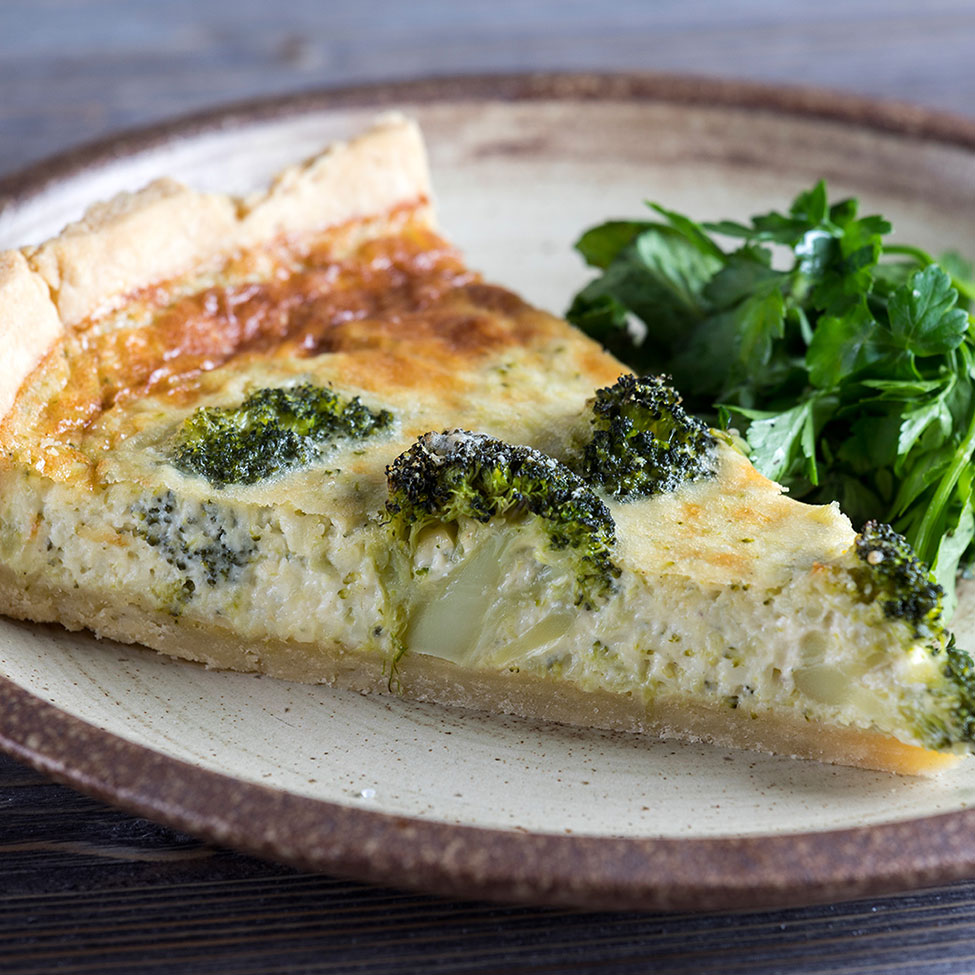 Directions
Preheat the oven to 160°C using convection. Grease a round pie tray (28cm) with flour and butter, spread out the pastry and press it down hard so it could stick to the bottom and the sides of the pie tray. Make sure there's pastry hanging over the edge of the tray and don't cut it. Any pastry that is left can be stored in the freezer for next time. With a fork, pierce the short crust pastry in numerous places on the bottom of the tray. Place it in the oven and bake for 15-20 minutes. Place water in a pot and heat. Once boiling, add the broccoli and allow to boil for 3-5 minutes. Strain. Put a not-stick frying pan over high heat and add 1 tablespoon of olive oil.
Cut up the ham and spring onions into small pieces of 0.5cm and place them in the frying pan. Sauté for 2-3 minutes until they take on a golden brown color. Remove from the heat, mix and set aside to cool. Put the fresh cream, cream cheese, graviera cheese, half the parmesan, eggs and yolk into a bowl. Stir well with a whisk until all the ingredients have mixed into together. Add the nutmeg, stir in and set aside. Remove the pie from the oven and allow it to cool.
Spread out the ham with the spring onion on the bottom of the pie and then add half the broccoli. Place the other half of the broccoli in a clean towel and squeeze it until all the liquids have evaporated. Then put it in a multi-blender and beat until pulverised. Place it in a bowl with the rest of the ingredients and add salt and pepper. Finely chop the spearmint and thyme and add them to the pie. Afterwards, add the filling and spread it out so that it covers the surface completely.
Cut the overhanging pastry from the tray and spread the rest of the parmesan on the top. Carefully transfer the pie to the oven and bake for 40-50 minutes.
Once baked, remove the pie from the oven and let it cool down for 1 hour. Ideally, the pie should be served at room temperature. Place on a cutting board the parsley, spearmint, oregano and thyme.