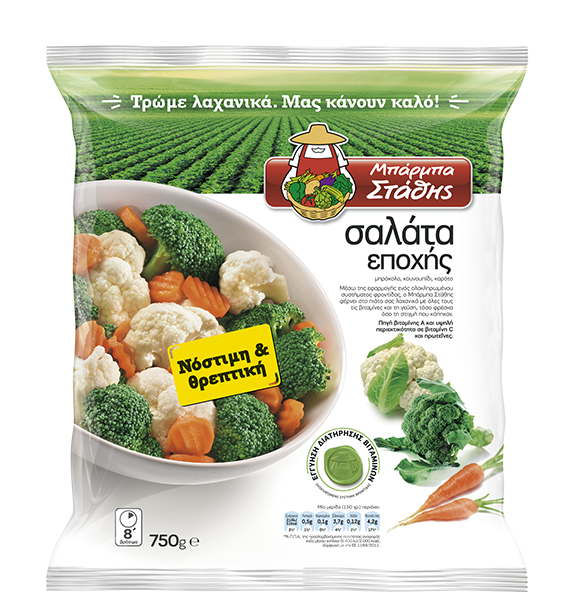 SERVING TIPS
Straight out of the freezer and into a pot or pan, you can cook our season salad just like you would cook any fresh vegetables.
Do not de-freeze prior to cooking!
A season salad consisting of vitamin-rich broccoli, cauliflower, and carrot and backed by the Barba Stathis guarantee of safety and quality. Enjoy it as a meat or fish garnish, as a salad on the side, or as your main course.
Discover
our delicious recipes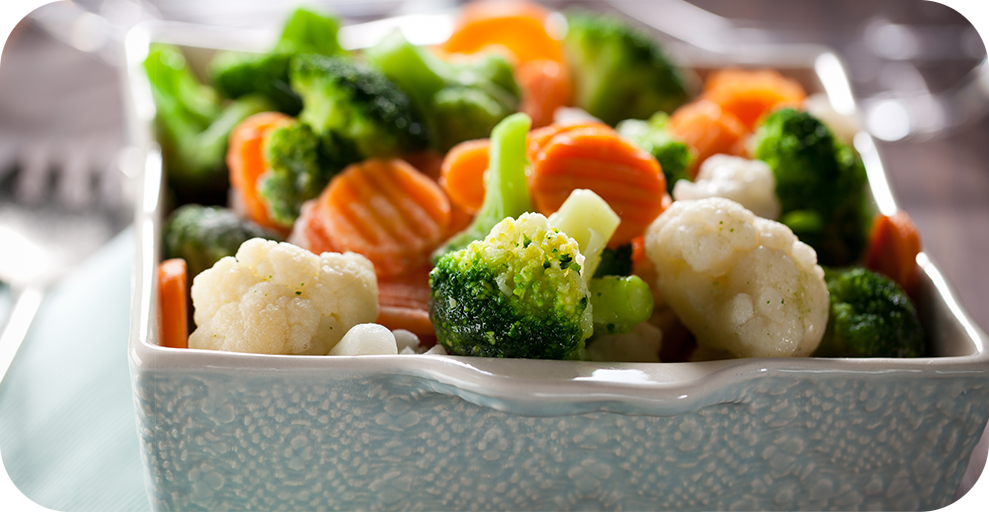 MORE INFORMATION
DIETARY INFORMATION
STORAGE
INGREDIENTS
COOKING INSTRUCTIONS
 
Per 100g
Per 250g
(1 portion)

---

Energy
143kj|34kcal
214kj|51kcal
Fat
0.3g
0.5g
of which saturated
0.05g
0.07g
Carbohydrates
5.6g
8.4g
of which sugars
2.4g
3.7h
Fibers
2.9g
4.2h
Proteins
2.2g
3.3g
Salt
0.08g
0.12g

---

 
Per 100g
% of R.D.I.
Vitamin A
135.6μg
17%
Vitamin
47.3mg
59%
*% of recommended daily intake
Refrigerator: 24 hours
Freezer -6˚C: 1 week
Freezer -12˚C: 1 month
Freezer -18˚C: see best before
Caution:
Once defrosted, do not refreeze
Broccoli, califlower, carrots.
Cook straight from the freezer, no need to defrost!
In the pot: Fill a pot with water about 2/3 full, add 1 teaspoon of salt and let it boil over high heat. Add the vegetables and let them boil with the lid open for about 7-8 minutes. Adjust the cooking time depending on how soft or crunchy you prefer your vegetables. Finally, remove from the heat and drain.