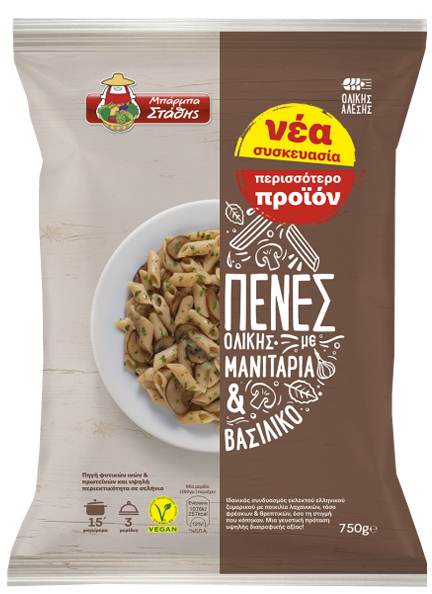 SERVING TIPS
Straight out of the freezer and into a pot, you can cook our Whole Grain Pasta Penne with Mushrooms & Basil.
Do not de-freeze prior to cooking!
Our Whole Grain Pasta Penne with Mushrooms & Basil is an easy dish that cooks in minutes. It's a balanced, nutritious, and delicious dish, both as a main course and as a side, and can also serve as the basis for countless creative recipes with pasta and vegetables.
Discover
our delicious recipes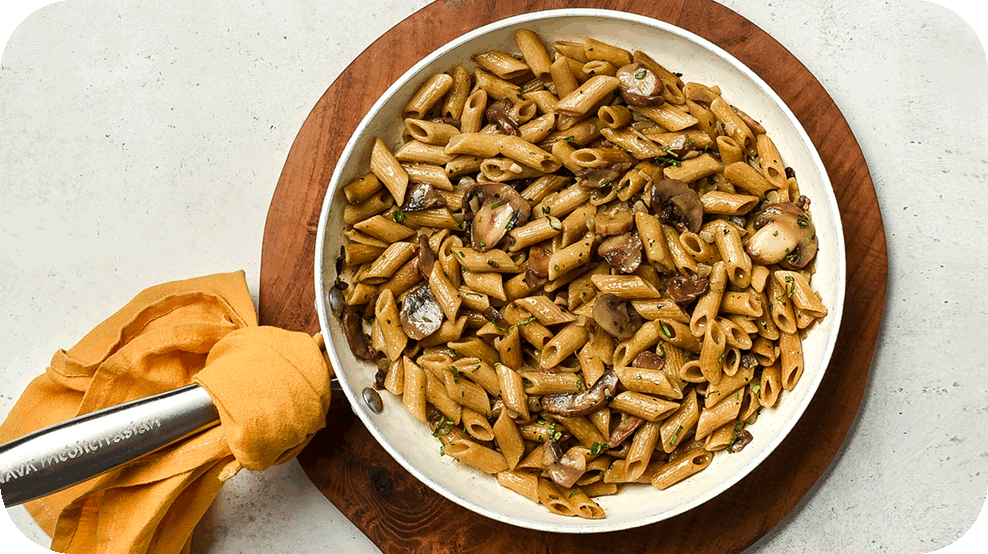 MORE INFORMATION
DIETARY INFORMATION
STORAGE
INGREDIENTS
COOKING INSTRUCTIONS
 
Per 100g
Per 250g (1 portion)

---

Energy
430kj|109kcal
1076kj|257kcal
Fat
1.3g
3.3g
of which saturated
0.31g
0.80g
Carbohydrates
38.8g
97.1g
of which sugars
2.42g
6.10g
Fibers
4.6g
11.5g
Proteins
7.7g
19.2g
Salt
0.03g
0.10g

---

 
Per 100g
% of R.D.I.
Selenium
19μg
34%
*% of recommended daily intake
Refrigerator: 24 hours
Freezer -6˚C: 1 week
Freezer -12˚C: 1 month
Freezer -18˚C: see best before
Caution:
Once defrosted, do not refreeze
Whole grain pasta penne, mushrooms, onion, basil
Without defrosting, empty the package contents into a deep-frying pan or pot and brown them with 3 tablespoons of olive oil for 6-7minutes on high heat. Add 150ml of water, and salt and pepper to taste. Replace the pan lid and simmer on low heat for 8-10 minutes, stirring regularly.