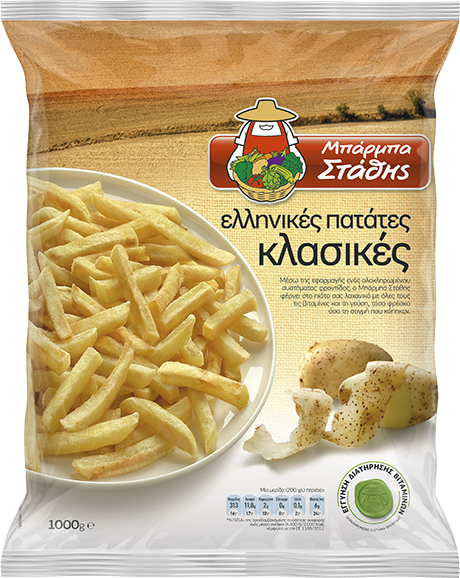 SERVING TIPS
Straight out of the freezer and into a pan, you can cook our French Fries just like any fresh vegetable.
Do not de-freeze prior to cooking!
Enjoy Greek potatoes that are full of flavor – a perfect side for all your favorite dishes. Ready to cook at any time in your frying pan, deep fryer or – for a healthier alternative – oven. Enjoy them on their own or as a delicious side to your favorite dishes, such as oven-baked meat patties, steaks or chops.
Discover
our delicious recipes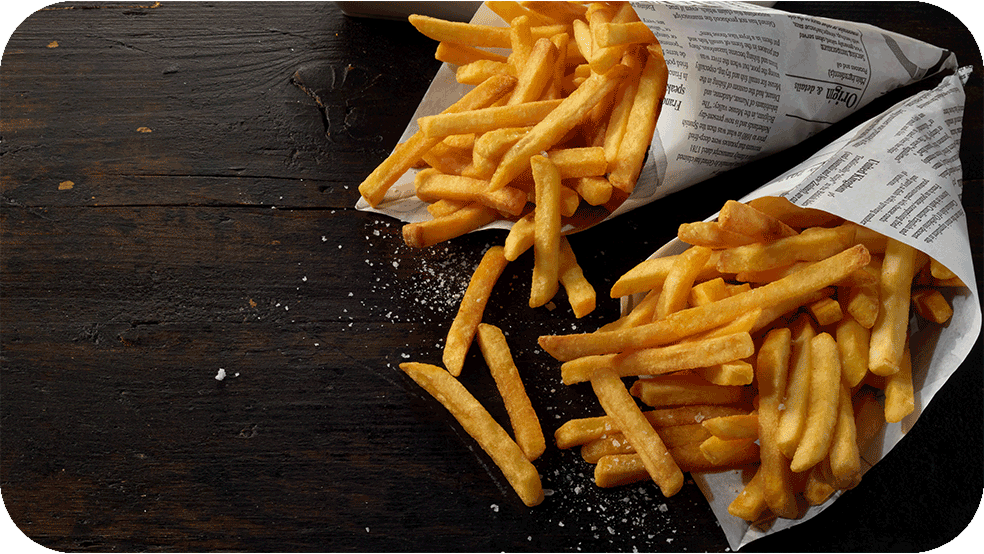 MORE INFORMATION
DIETARY INFORMATION
STORAGE
COOKING INSTRUCTIONS
 
Per 100g
Per 200g (1 portion)

---

Energy
653kj|156kcal
1306j|313kcal
Fat
5.9g
11.8g
of which saturated
0.9g
1.9g
Carbohydrates
24.3g
48.6g
of which sugars
0g
0g
Fibers
3.g
6.0g
Proteins
2.4g
4.9g
Salt
0.06g
0.1g

---
Refrigerator: 24 hours
Freezer -6˚C: 1 week
Freezer -12˚C: 1 month
Freezer -18˚C: see best before
Caution:
Once defrosted, do not refreeze
In the oven: Preheat your conventional oven to 220°C (200°C if using a fan oven). Without defrosting them, place the potatoes on a baking tray. Bake them on the middle oven rack for 30-35 minutes, flipping the potatoes after the first 16 minutes.
In the frying pan: In a shallow frying pan, heat up 1 cup of olive oil. Without defrosting them, fry the potatoes in small batches (about 200g at a time). Fry the potatoes for about 7-8 minutes or until crisp and golden. Remove from the pan with a skimmer and lay them on a platter, allowing them to dry on a paper towel.