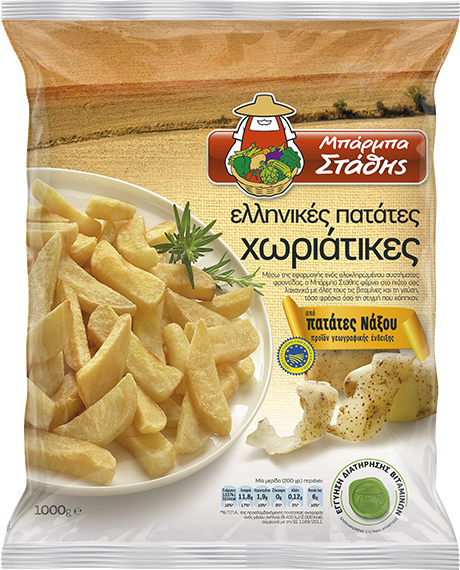 SERVING TIPS
Straight out of the freezer and into a pot or pan, you can cook our Country-Style Naxos Potatoes just like any fresh vegetable.
Do not de-freeze prior to cooking!
Enjoy Greek potatoes that are full of flavor – a perfect side for all your favorite dishes. Ready to fry or roast at any time. Try roasting our crispy and delicious Barba Stathis Country Style Naxos Potatoes for a healthier dish and enjoy them on their own, or as a delicious side to your favorite dishes, such as beef in red sauce or meat balls.
Discover
our delicious recipes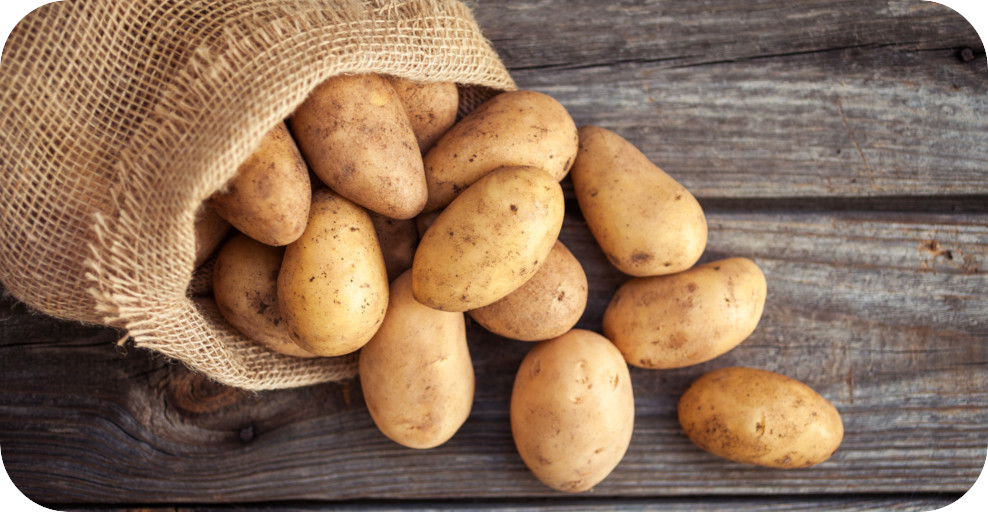 MORE INFORMATION
DIETARY INFORMATION
STORAGE
COOKING INSTRUCTIONS
 
Per 100g
Per 200g
(1 portion)

---

Energy
668kj|160kcal
1337j|321kcal
Fat
5.9g
11.8g
of which saturated
0.98g
1.96g
Carbohydrates
24.3g
48.7g
of which sugars
0g
0g
Fibers
3.0g
6.0g
Proteins
2.5g
4.9g
Salt
0.06g
0.12g

---
Refrigerator: 24 hours
Freezer -6˚C: 1 week
Freezer -12˚C: 1 month
Freezer -18˚C: see best before
Caution:
Once defrosted, do not refreeze
In the oven: Preheat your conventional oven to 220°C (200°C if using a fan oven). Without defrosting them, place the potatoes on a baking tray. Bake them in the middle oven rack for 20-25 minutes, flipping the potatoes after the first 13 minutes.
In the frying pan: In a shallow frying pan, heat up 1 cup of olive oil. Without defrosting them, fry the potatoes in small batches (about 200g at a time). Fry the potatoes for about 7-8 minutes, flipping as needed, until they are crisp and golden. Remove from the pan with a skimmer and lay them on a platter, allowing them to dry on a paper towel.