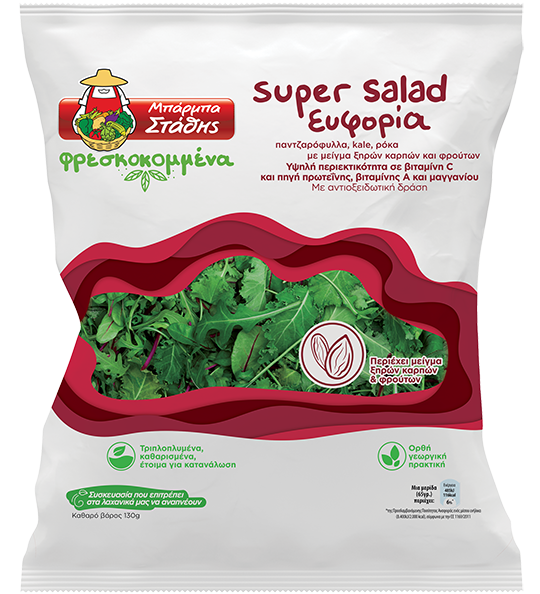 SERVING TIPS
Experience a distinct flavor by combining your super salad Euphoria with a citrus dressing.
You can also create your own irresistible concoctions by mixing in your favorite fruits.
Discover
our delicious recipes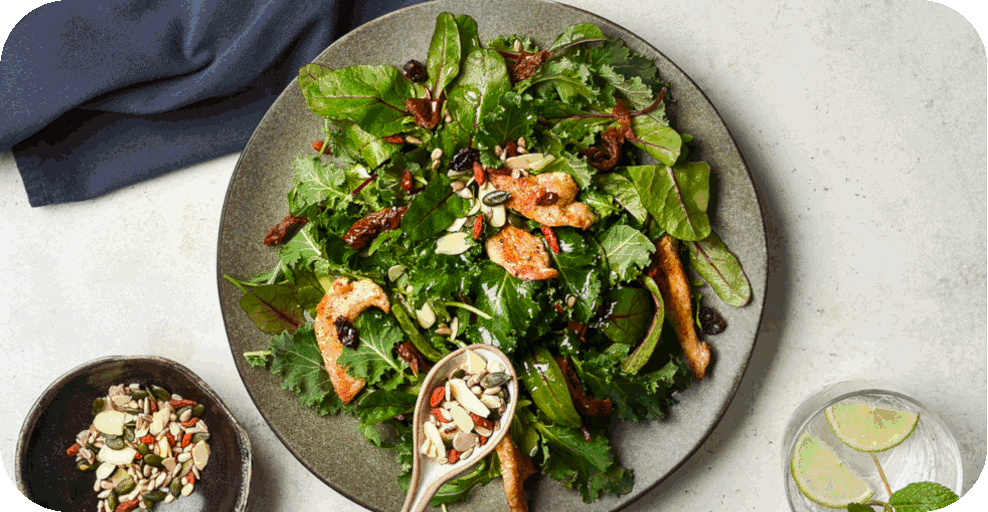 MORE INFORMATION
DIETARY INFORMATION
STORAGE
INGREDIENTS
 
Per 100g*
Per 65g**
(1 portion)

---

Energy
747kj|178kcal
485kj|116kcal
Fat
10,1g
6.5g
of which saturated
1.41g
0.92g
Carbohydrates
14.1g
9.2g
of which sugars
6.2g
4.0g
Fibers
4.3g
2.8g
Proteins
6.6g
4.3g
Salt
0.28g
0.18g

---

 
Per 100g
% of R.D.I.***
Vitamin A
177μg
22%
Vitamin C
35mg

44%

Manganese
0.4mg
20%
*100g of product are calculated with 77g mixture of vegetables and 23g mixture of dried fruits & berries.
** The suggested portion consists of 50g mixture of vegetables and 15g mixture of dried fruits & berries.
***% of recommended daily intake
Keep refrigerated at 2-5°C. Open the top section carefully and keep any remaining product in the packaging, ensuring that it is properly sealed. For optimal safety and maximum enjoyment, consume within 48 hours of opening.
Always consume before the expiration date.
Vegetable mix: beet leaves, kale, rocket
Mix of dried nuts & fruits: cranberries, almonds, sun flower seeds, pumpkin seeds, goji berries
May contain traces of celery & mustard leaves.
Dried nuts are packed in a facility that uses gluten, peanuts & sesame.