LATEST NEWS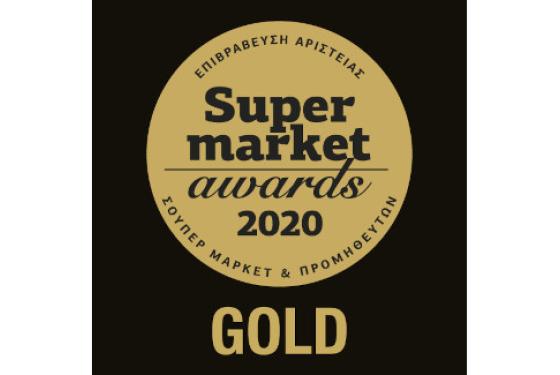 Two golden awards for BARBA STATHIS at the Super Market Awards 2020
September 11, 2020
The BARBA STATHIS company, a Vivartia affiliate, received two noteworthy awards at the recent Super Market Awards 2020. Both the introduction of a new product range "Chorefti" by Cryssi Zymi, and a training program implemented together with the American Farm School for its farmers, brought home two golden awards in their respective categories.
The golden prize was awarded to Cryssi Zymi for its successful introduction of a new product range.
The Cryssi Zymi brand stays true to the values of tradition, innovation, and authentic home cooking, and -inspired by the intricate movements of a filo pastry "dancing" in the hands of the Greek baker- it introduced the "Chorefti" range last year. A pie made with a unique filo pastry ("chorefto"), extra virgin olive oil, crusty layers, and stuffings created using only the best ingredients of the Greek culinary tradition. The "Chorefti" range, introduced to the public under the popular BARBA STATHIS pastry brand, was quickly loved and trusted, not only in the food supply chain circles, but also by the Greek consumers. This award highlighted once again our successful product promotion strategy, as well as the brand's success in consistently offering safe and high-quality products.
The golden prize was awarded to BARBA STATHIS for "efficiently using the Greek agricultural production and tradition".
Committed to excellence and to the utmost safety of its products, the BARBA STATHIS company has focused on sustainable development and, as such, cultivates its crops under fully monitored conditions and in full respect of its farmers, consumers, the environment and society. Inspired by this principle, the company – together with the American Farm School – implemented a series of training seminars for the farmers it partners with. The total duration of the program was 110 hours and it benefitted more than 100 farmers who received training on natural resources management and crop protection. In addition to the specialized knowledge offered to them via our training program (which has an impact not only on the sustainability and the health of the crops, but also on the BARBA STATHIS customer base), our company has actively supported the farmers we collaborate with, safeguarding their health and safety. Through sound training, we help them stay abreast of new developments and to become ambassadors of Integrated Farming Management values.